Archive for: Bdellium Tools
Recebi estes pincéis para fazer uma review justa para vocês. Como sempre esta é a minha opinião e não é afectada por esse facto, como sempre.
I got these brushes to make a review just for you. As always this is my opinion and is not affected by this, as always.
O que têm estes pincéis de fenomenal?
Muita coisa , muita coisa mesmo.
Antes de mais têm um site super apelativo http://www.bdelliumtools.com com muito boas fotos e que nos deixam com vontade de querer cada miminho.
Depois porque as suas cerdas recebem um tratamento anti-bacteriano. Para quê? Para gente como eu que passa a vida a desinfectar os pincéis ter a certeza que estão bem desinfectados. As cerdas levam um tratamento anti-bacteriano não tóxico nem para nós nem para o ambiente que permitem ficar livres tanto de S.aureus (que para quem não sabe são as bactérias existentes em maior número na pele e nas mucosidades, e que poderão provocar reacções adversas) como de E.coli esta já mais conhecida por estar presente em todo o tipo de matéria fecal e de produzir grandes danos quando em contacto connosco.
Não sei se sabem mas os nossos pincéis devem ser desinfectados cada vez que se usem e lavados uma vez por semana, se por ventura estivermos a maquilhar mais de que uma pessoa ao mesmo tempo devemos desinfectá-los entre pessoa ou ter um pincel para cada uma.
Porquê?
Quando usamos os nossos pincéis resíduo dos cosméticos combinado com poeiras e humidade ficam presos nas finas cerdas do pincel, levando ao crescimento bacteriano ( é o meio ideal para crescerem bateriazinhas, fungos etc). Os Bdellium tentam minimizar o crescimento bacteriano, utilizando a tecnologia anti-bacteriana. No entanto, para garantir a longevidade desta tecnologia anti-bacteriana, a manutenção adequada ainda é necessária. Isto significa que temos de continuar a lavar os pincéis com regularidade.
(ok a conversa começa a ficar um bocadinho chata, mas sabem, estão a falar com a pessoa que adora ver fungos, bactérias de diversas estirpes a crescerem, estão a falar com uma técnica de laboratório que sempre adorou microbiologia eheh )
Vamos agora aos pincéis propriamente ditos.
What have these brushes so phenomenal?
Many many things.
First of all have a super appealing http://www.bdelliumtools.com site with very good pictures and make us want to want every little gift.
Then because their bristles receive an antibacterial treatment. Why? For people like me who spends his time disinfect the brushes to make sure taht they are well disinfected. The bristles bring an anti-bacterial non-toxic to us or the environment that allows both to be free of S. aureus (which for those who do not know the bacteria are more abundant in skin and mucus, and may cause adverse) and E.coli is already known to be more present in all types of fecal matter and produce great damage when in contact with us.
Don't know if you know, but our brushes should be disinfected every time we use it and washed once a week, if perchance we are to make up more than one person at a time we should disinfect them between one person or have a brush for each .
Why?
When we use our brushes residue of cosmetics combined with dust and moisture trapped in the fine bristles of the brush, leading to bacterial growth (this is the ideal medium to grow little monsters =) , fungi etc). The bdellium try to minimize bacterial growth, using the anti-bacterial technology. However, to ensure the longevity of this anti-bacterial technology, proper maintenance is still required. This means that we must continue to wash our brushes regularly.
(Ok the conversation starts getting a little boring, but you know, you're talking to the person who loves to see fungi, several strains of bacteria grow, you're talking to a laboratory technique that has always loved microbiology LOL)
Let us now turn to the brushes themselves.
O Brush Roll
O brush roll é muito bom ! Pareceu-me de pele sintética mas muito suave quase verdadeira e sem aquele cheiro a sintético (que às vezes algumas marcas têm), os pincéis vinham todos plastificados individualmente. Parece-me que este brush roll vai durar bastante tempo, porque já resistiu a imensas intempéries! =P
Os pincéis que me mandaram são este kit Eyes 12pc. Brush Set with Roll-up Pouch em tamanho mini, para quem tem as mãos pequeninas é óptimo, para quem como eu gosta deles maiorzinhos é uma boa forma de experimentar os pincéis, porque acabei por achar que mesmo tendo um cabo mais pequeno cumprem bem o seu trabalho.
The brush roll is very good! It seemed a very soft synthetic fur but almost no real and the synthetic smell (which sometimes have some brands), all the brushes come individually laminated. It seems to me that this brush roll will last a long time, because they resisted the huge weather! = P
The brushes that are sent me this kit Eyes 12pc. Brush Set with Pouch Roll-up in mini size for those with little hands is great for people like me like them a bit bigger and a good way to experiment with the brushes, because I ended up finding out that even with a smaller and meet the their work.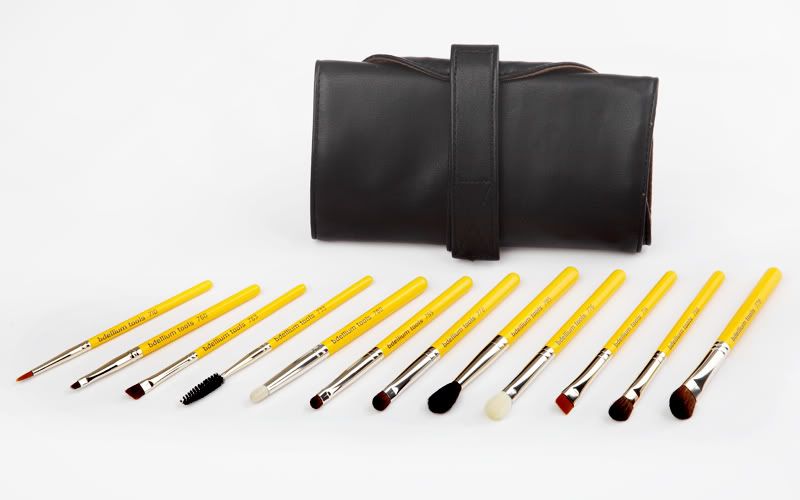 (imagem do site)
Dentro do brush roll o material parece meio plastificado e impermeável mas ao mesmo tempo muito soft. E tem umas cores realmente bonitas !
Inside the brush roll the material seems a bit plastic and waterproof but at the same time very soft. And has some really beautiful colors!
Cada Pincel tem o seu sitio e ainda ficam com espaço para mais 5 pincéis desde que sejam pequeninos.
A variedade é imensa, tem imensos pincéis específicos que eu nunca tinha utilizado. Um dos pincéis é o que a Lisa Eldridge fala muitas vezes para aplicar eyeliner da Chanel (é uma copiazinha perfeita).
(Individualmente de cada pincel falaremos numa próxima review)
The variety is huge, has lots of specific brushes that I had never used. One of the brushes is what Lisa Eldridge speaks often to apply eyeliner from Chanel (perfect copy ).
(Individually each brush will speak at a forthcoming review)
Só para terem ideia do tamanho cabem todos na minha palma da mão. E em cima tenho um de blush (que também gosto imenso) mas de tamanho normal.
Just to have the idea size fits all in the palm of my hand. And above is a blush brush (also great) but of normal size.
Curiosas?
Poderão comprar esta linha no Amazon link por cerca de 35.40€
Espero que tenham gostado desta Review de introdução. A mais pormenorizada está a caminho =)
Curious?
You can buy this online at Amazon link for about € 35.40
I hope you enjoyed this Intro Review. The most detailed is in the way =)